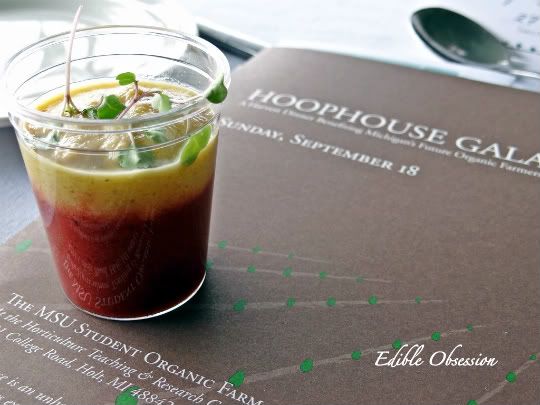 This year, at MSU's third annual Hoophouse Gala, about 250 guests came together to enjoy the harvest dinner and also raise money to create scholarships to support the training and education of the next generation of Michigan's organic farmers.
The gala was held on the ground of the MSU Student Organic Farm, last Sunday, September 18. Dining al fresco under the beautiful sky, guests were served Michigan beers and wines, and seven-course meal prepared by the Spartan chefs. The day was gorgeous, and the dinner was amazing!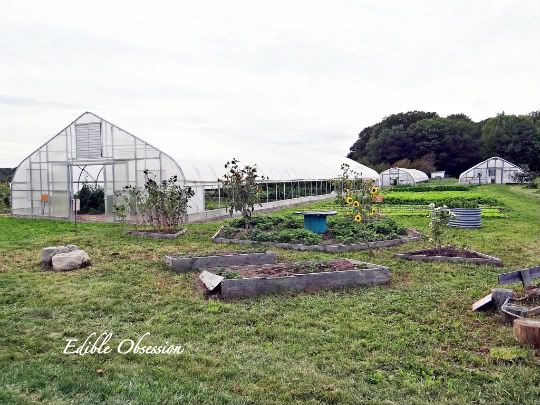 A hoophouse is an unheated passive solar greenhouse used to help farmers extend their growing seasons and increase, vegetable, fruit, flower and herb production.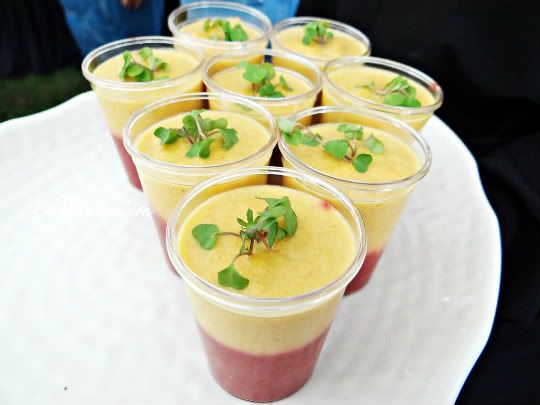 Upon arrival, guests enjoyed their beverages and appetizers, including beet shooters.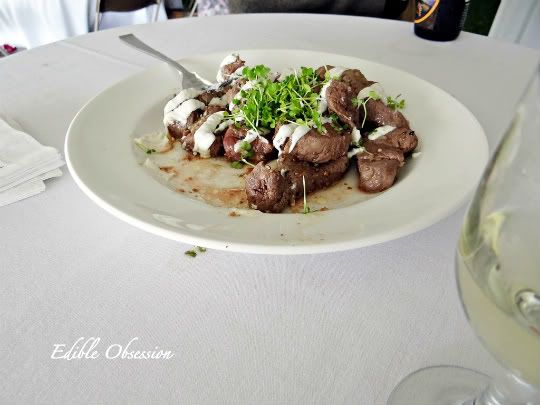 Receptions appetizers (above and more) by chef Brad Curlee, chef Jeff Fisher, and chef Rob Trufant.
While enjoying the reception, guests got to bid at the featured silent auction, as well as had a farm walk at our leisure. Then, we sat down for a Michigan sustainably-produced harvest dinner.
Here's what we had: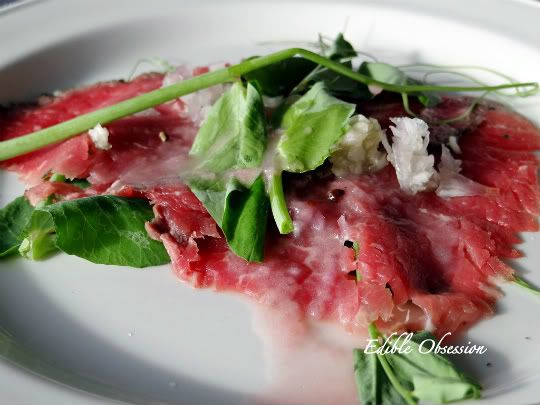 Appetizer by chef Eric Batten:
Herb-seared Beef Carpaccio
pea shoot salad & Michigan grape vinaigrette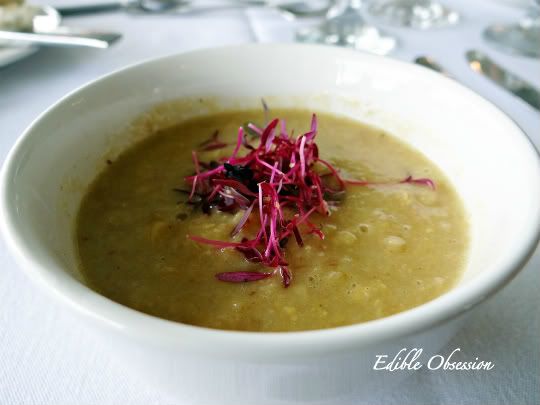 Soup by chef Michael Clyne:
Michigan Sweet Corn Soup tiny dumplings with pork belly, chili oil, ginger & cilantro.


[Vegetarion option for appetizer and soup]


Salad by chef Kurt Kwiatkowski:
Michigan Caprese Salad MSU Student Organic Farm heirloom tomatoes, basil, & micro-greens


Fish by chef Eric Batten:
Fire-grilled Okemos Shrimp diablo oil with stone circle dipping bread & cilantro


Intermezzo by chef Gerhard Steiner:
Michigan Blueberry Sorbet St. Julian Winery vodka, Michigan blueberries & essence of lemons


Entree by chef Matthew Wilson:
Pasture-raised Organic Pork forest mushroom. rutabaga duchess, baby zucchini & huckleberry jus


Optional vegetarian entree:
Sweet Potato Gnocchi with brown butter and sage


Dessert by chef Michael Clyne:
Cornmeal Brown Butter Cake MSU Student Organic Farm blueberries, sweet & salty popcorn, and strawberry rose geranium ice cream
Lynne & I before dinner started


Some of guests at our table: Nori, Emma, and Libby are Student Organic farm crews. We had a good time, and I've learned a lot more about the program and what they do at the farm.


MSU Student Organic Farm crews