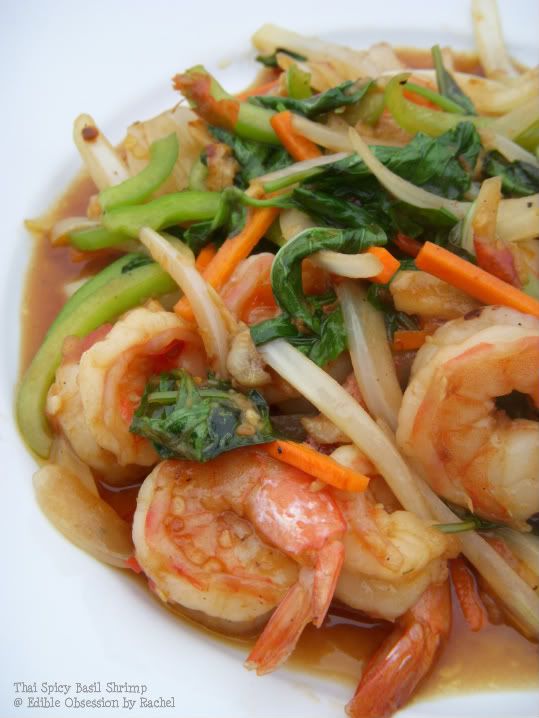 I love fresh Thai basil. Its unique flavor gives any dish such a wonderful freshness. Unlike Italian basil, Thai basil has stronger aroma and sweeter peppery flavor. The most commonly used of Thai basil is Sweet Basil ("Bai Ho Ra Pa") which has a strong exotic scent. It is used in all kinds of curry and stir-fried dishes.
In this recipe, besides fresh shrimps, you can also use any other kind of meats. And you can adjust the heat to your preference by cutting or adding the red chili peppers.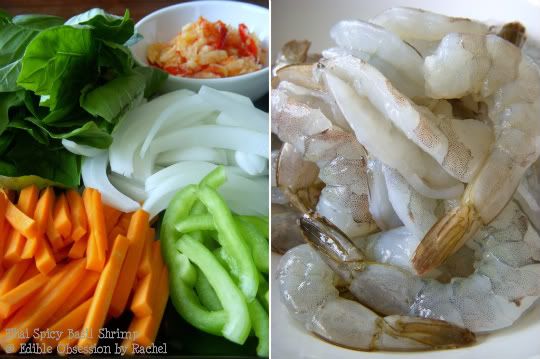 You will need:
1 lb. fresh shrimp, peeled and deveined
7-8 garlic cloves
7-8 Thai red chili pepper (or adjust to your preference)
1 cup yellow onion, thinly sliced
1/2 cup carrot, cut in matchstick pieces
1/2 cup green/red/yellow bell pepper, julienned
2 cups basil leaves, loosely packed
3 Tbsp vegetable oil
2 Tbsp oyster sauce
2 tsp light soy sauce (or fish sauce)
2 tsp sugar
1/4 cup water
grounded white (or black) pepper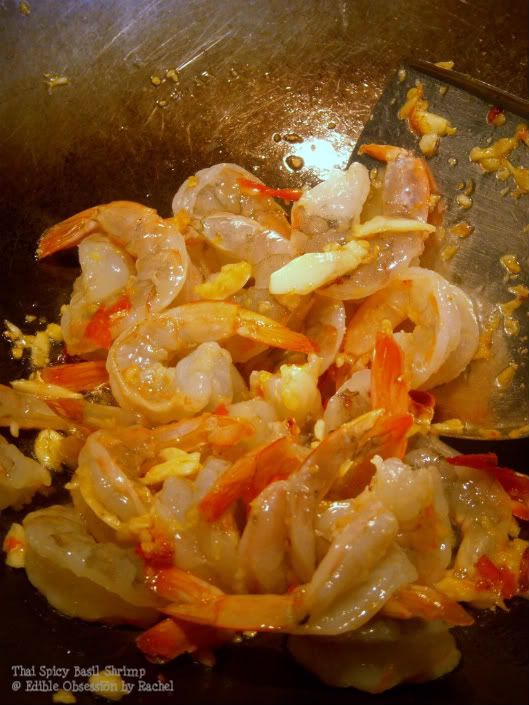 Directions:
Pound garlic cloves and chili peppers together using mortar and pestle. Or you can mince them together using a knife.
Heat oil in a wok or large skillet over medium-high heat. Add chili garlic mixture and stir until lightly browned and fragrant.
Add prepared shrimps and stir well to evenly mix everything together. Once the shrimps start to turn pink - but still translucent in the middle !! (pictured above), add onions, carrots, and bell peppers. Stir to get vegetables cooked real quick, you want them to be a bit crisp, not all soft.
Then, add oyster sauce, light soy sauce, sugar, and grounded white/black pepper.
Stir quickly to mix the seasonings into ingredients. Then add water, and stir to get everything coated with sauce.
Turn off the heat, add the basil leaves and give it a good stir. Transfer to serving dish. Great over rice!