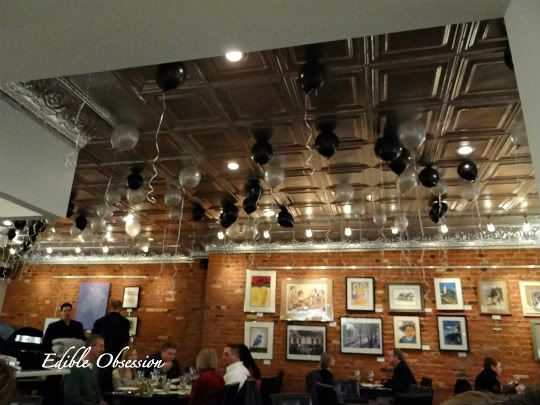 Happy New Year! I hope you had a nice celebration, and great times bringing in 2012. All it takes to have a great New Year's Eve is good friends, the right attitude, great meal, and fabulous ambiance. I was spending the evening with my dear friends, Beth & Joe, altogether with their friends. We all love
Gracie's Place
, in Williamston, MI. So when we had found out they offered a 4-course New Year's Eve dinner, we knew we had a great plan for the the night.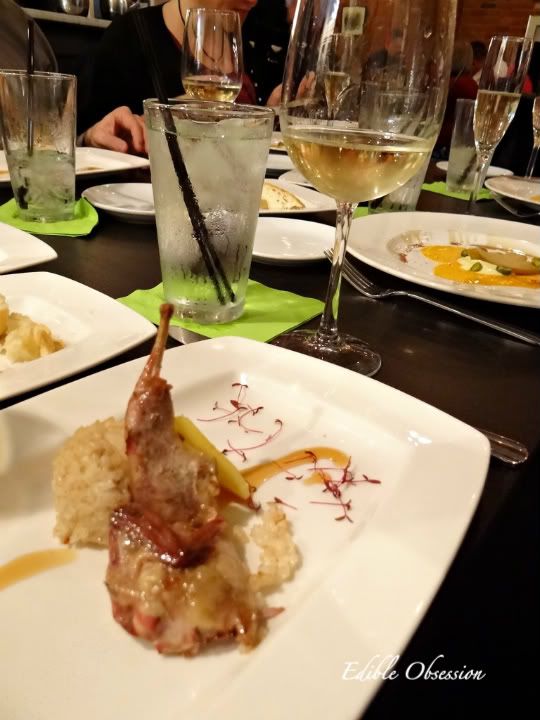 1st Course
Lavender Quail
Sumac-quail confit, Arborio rice pudding, vintage bandage wrapped cheddar, black tea-honey reduction.
"La Spinetta, Bricco Quagliai, Moscato"


(Option)
Butternut Squash Carpaccio
Toasted pumpkin seed oil, maple-lemon poached pear, coconut-lemongrass creme, pistachio.
"L. Mawby Blanc de Blanc Brut"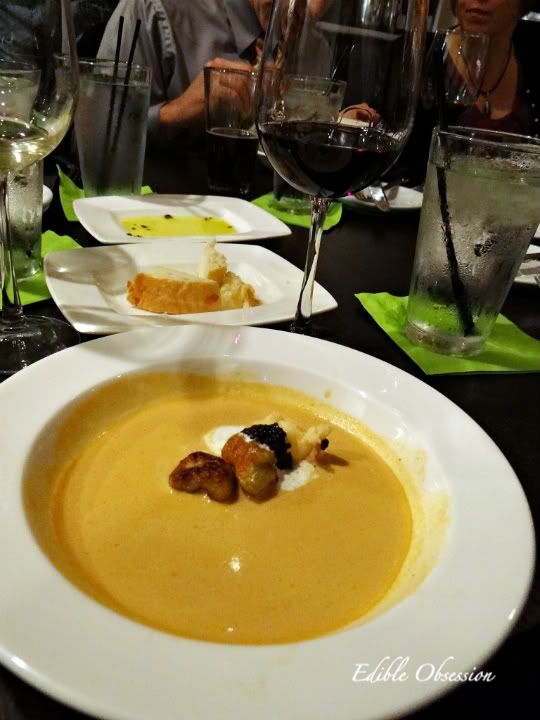 2nd Course
Maine Lobster Bisque
Lobster, potato gnocchi, yuzu creme fraiche, white sturgeon caviar. [Great flavor and every component came together wonderfully, I really enjoy it!]
"Villa Rubini, Pinot Grigio"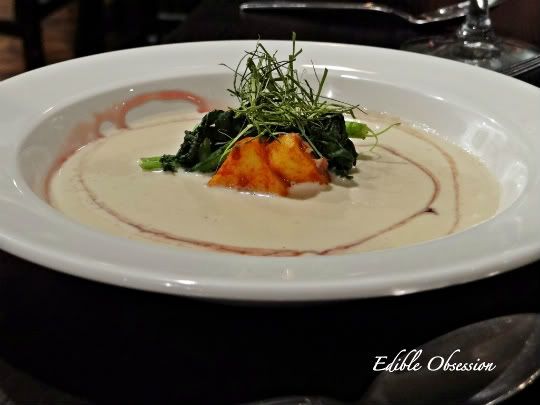 (Option)
Juniper-Turnip Bisque
Garlic roasted potatoes, kimchee apple, fennel, red wine reduction, kaffir lime leaves.
"Anakena, Estate Bottled Carmenere"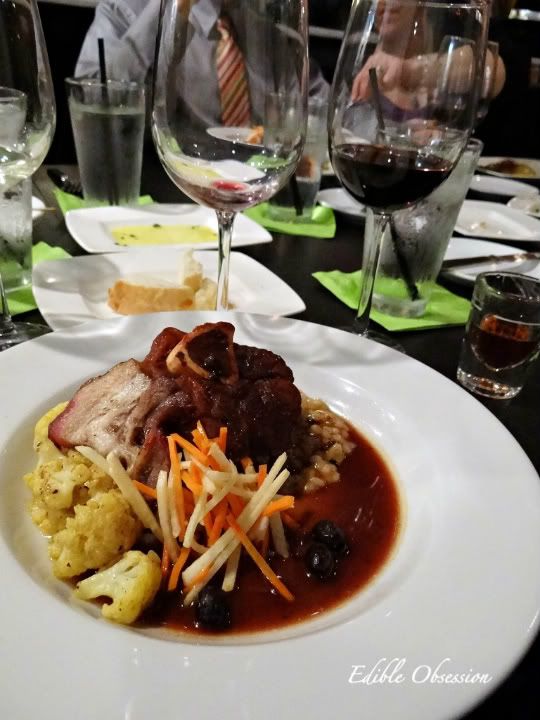 3rd Course
Mangalitsa and Venison
Slow roasted Mangalitsa pork belly, barley risotto, rum-raisin braised venison osso buco, curried cauliflower, candied olives, and carrot-jicama salad.
"Las Perdices, Malbec Reserve"

(Option)
Plantain Ravioli
Cured shitake mushroom, caramelized onions, toasted butter, sweet potato treads, cardamom yogurt.
"Folesana Gariete, Emila Albana"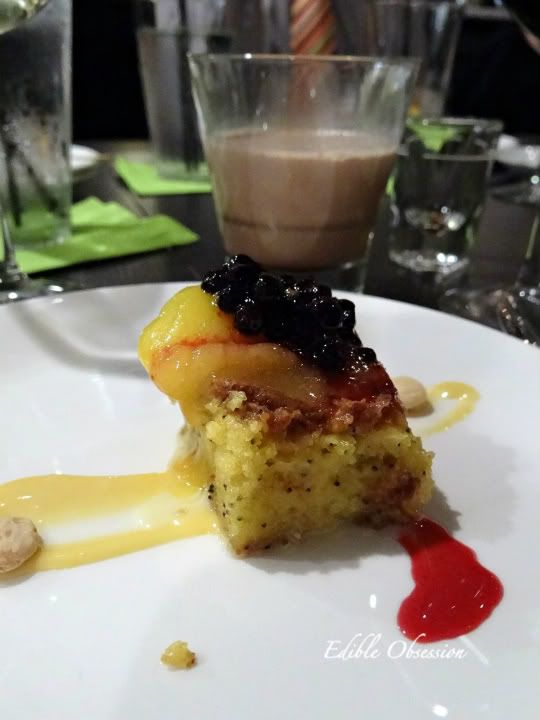 4th Course
Tres Leche Cake
Lemon-poppy tres leche cake, vanilla bean-orange creme anglaise, mango sorbet, huckleberry jam, marcona almond.
"Blue Fire Hot Chocolate"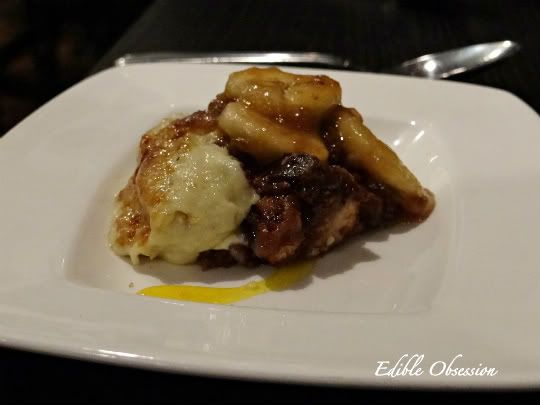 (Option)
Banana and Chocolate
Banana creme brulee, malted chocolate bread pudding, bourbon smoked sugar, banana-date flambe, saffron-balsamic syrup.
"Fenn Valley, 42, Vidal Blanc Iced Wine"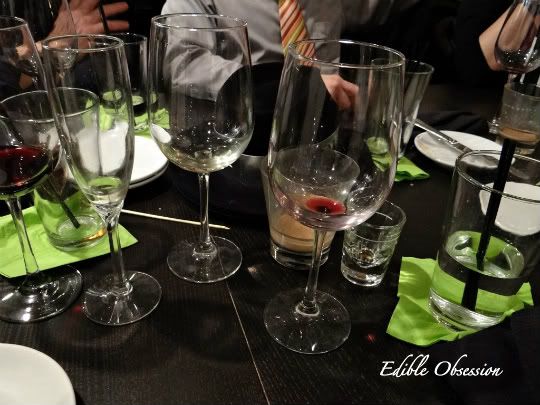 After dinner, Beth & Joe ordered our table a bottle of Malbec to share. We do love Malbec! By then, the band started playing beautiful jazz. Absolutely great atmosphere to ring in the new year.
Hope 2012 is good to you.
Eat, Drink, & Be Merry!