It's official now that I have another favorite sushi spot in town - besides
Omi Sushi
. Grand opening in
Okemos
about 2 months ago,
Maru
: Sushi and Grill, is located across the street from
Meridian
Mall on Marsh road. It was such a nice evening when I went there with my friends, Gary and Lynne, so we chose to sit outside. Our appetizer --
Flash Fried Calamari
-- had a different batter we usually find at other restaurants. It was lightly coated with spices and flash fried, therefore the freshness and the true flavor of the calamari presented themselves pretty well. The spicy
aioli
was a nice compliment to the dish.
Then, we had
Spicy

Magusake

Salad.
Tuna and salmon, mixed with green onion, sesame seeds, plated with greens, carrot, cucumber, and
Gochujang
dressing. The spiciness of red pepper paste dressing went really well with the freshness of tuna and salmon.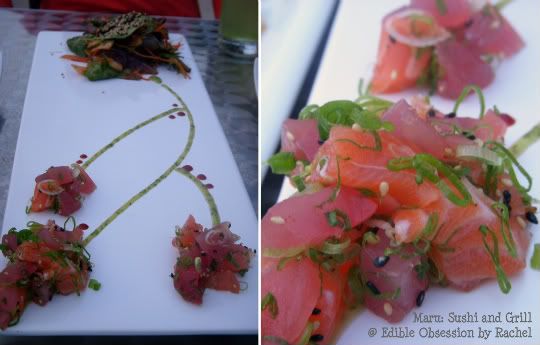 And for the main course, we ordered
Omakase

Platters
- Chef's choice featuring today's special. A $50 menu item we had included 3 platters of
sashimi
,
nigiri
, and a chef's special rolls. We were served a series of plates,
beginning
with the lightest fare and proceeding to the heaviest items. With
Omakase
style order, chef well-presented his innovative and artistic performance through his selection, as well as delivered to us an absolutely delicious meal.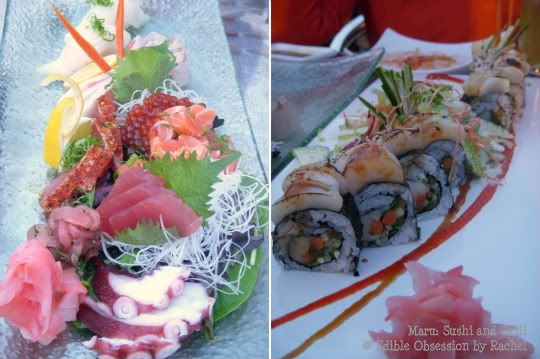 We finished our dinner with an order of a
Green Tea Creme

Brulee
. It was just wonderful!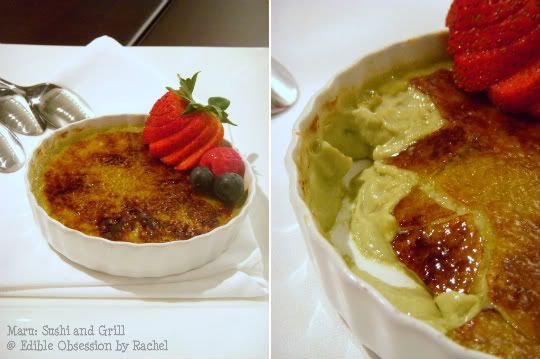 Overall atmosphere at
Maru
features a contemporary mix of Japanese and American concept. The dramatic white backdrop makes the sushi bar a focal point once you walk in. The service is excellent, our server was very friendly and did a perfect job. The owner, Robert, came over to our table, as well as the others in the restaurant, getting to know his customers and making sure everything was up to our expectation. It was a great dining experience we had at
Maru
!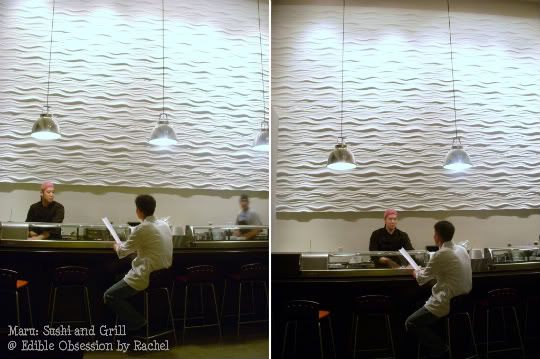 Update 6/28
: I went back to
Maru
again, the day after, with my son. He really loves sushi, I just had to introduce him to my new-found favorite. We had
Dragon Rolls
: crab, cucumber, avocado, with eel and avocado on top, drizzled with eel sauce. We will definitely order that again next time. Since I am a big fan of soft shell crab, we also ordered
Tarantula Rolls
: deep-fried soft shell crab, cucumber,
gobo
, radish sprout topped with
masago
. It was very good as I expected. Another dish we ordered but was gone before I remembered to take picture was
Crunchy Tuna Rolls
: spicy tuna with tempura flakes. The crunch added another dimension to the soft and spicy tuna, yet a delectable combination.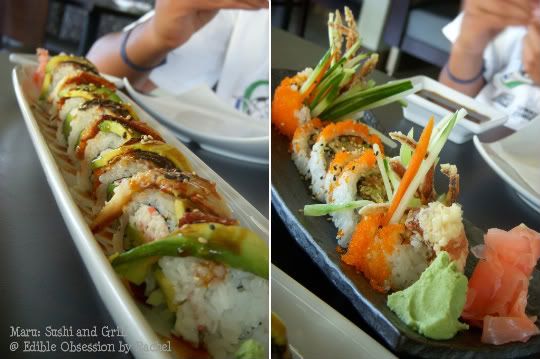 Maru
:
5100 Marsh Rd.
Okemos
, MI 48864
(517) 349-7500